Lennon Lives
Lennon Lives
12 May 2017 (by admin)
Beatlemania in Class 4!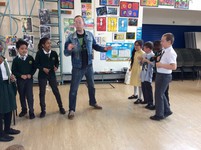 Class 4 took a trip down memory lane this week as they studied the times, lives and music of the greatest band of all time…The Beatles!
I was particularly excited by this prospect, as my love for all things Tottenham is ONLY matched by my near obsession with the music of the Beatles.
They are a brilliant topic for social and cultural history…and it gave Class 4 (and me) the chance to have a good old-fashioned sing-song! Education at its best in my book!
The highlight of the week was a special visit from John Lennon himself. Really! Well, sort of…
'John' spoke to the children of his post-war childhood, his family and his time as the world's number one musical icon. He, as was I, was struck by the children's interest and knowledge; clearly some good 'cultural parenting' going on in class 4! Special mention to Eduardo, who seemed to know more about 'John' than 'John' did!