Miraculous Medal Assembly
Miraculous Medal Assembly
12 May 2017 (by admin)
Class 4 Buddies Present Medal to Reception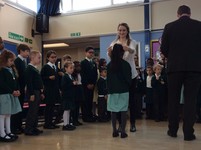 The SJV community today joined Class 4 and Reception in one of the most heart-warming ceremonies in the school calendar. Having been welcomed by their Class 4 buddies back in Autumn, Reception Class were reaffirmed as valued members of our school community as they were awarded the Miraculous Medal, in this very special month dedicated to Mary, mother of Christ. From the beautiful singing of 'Let It Be' to Angelina's barely-contained excitement in receiving her medal (we look forward to her Oscar acceptance speech in the future), it was clear that this meant so much to all concerned.
We are so very proud of our Reception class; they have settled into our school so well and have added their own special piece to the SJV jigsaw.
And, as for class 4….well, who could wish for better Buddies? Kind hearted, helpful and protective, they enjoy and revel in the responsibility given to them, and it's a lovely thing to see.
A special mention to Lucas: his Buddy's mother informed me that he has taken his promise SO seriously, that he takes the time, daily, to say hello, give advice and to just be a great friend to his Reception buddy. Well done Lucas – you encapsulate the spirit of this beautiful occasion.