PENDARREN 2023 - DAY 4
Weary Wednesday, out of the way, we are woke after another peaceful night, with anticipation for the day ahead.
And, here we are… months in the planning, years in the anticipation, and we have arrived at the last day of activities in Pendarren, 2023.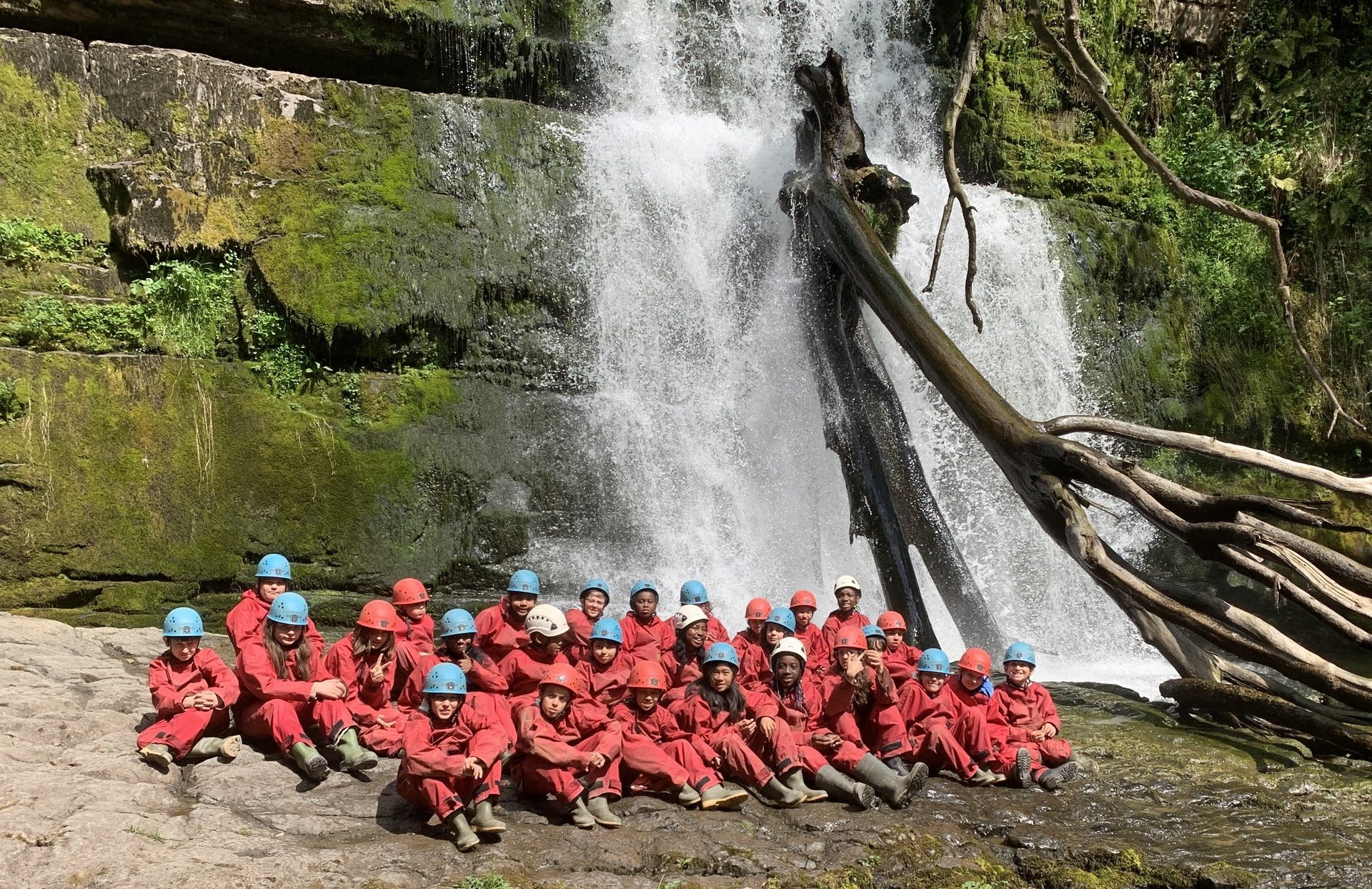 Day 4
It seems the instructors have saved the most physically challenging day for the last! On another beautiful Welsh morning, we drove to the source of a river high in the hills and followed its course through the valleys and up in the most anticipated spot of the week – the caves!
The instructors told us that because our group was so attentive and "up for it" we got to do far more than we normally would do in the caves. Squeezing through tight holes and crawling through mud and freezing water doesn't sound like much fun, but trust me, it really is!
And if we haven't had enough of freezing, cold water, this triple activity day had another treat in store for us! We spent some time near the foot of a spectacular waterfall, and it would've been rude not to have jumped in to slide down the last part of it! Some real fears conquered again today, and some determination shown to move well outside of comfort zones (the other teachers did this as well, but I skipped it because I don't need to prove anything to myself – I know could definitely do this if I wanted to. Probably. In theory).
As I write this, the group have traipsed down into the wooded area around Pendarren house to set up a campfire, tell some stories, reflect on the week, sing a few songs and to roast some sugared apples! The fun genuinely never stops.
I'm expecting another calm and restful night, and will be back with you in no time at all, bags full of dirty, washing and hearts full of some of the most fantastic memories! See you soon...
PENDARREN 2023 - DAY 3
Wednesday traditionally is 'Tired Day'. Excitement, adrenalin, activity and the whole 'newness' of the experience take their toll and they kick in on the Wednesday. That's the way it is. Always has been.
We always expect someone to let themselves down on the Wednesday; not out of malice, just sheer exhaustion. We can see it coming, we expect it and we are prepared for it. This week was no different.
What threw us this year was that it turned out to be Mr. Quin. The children were fine...
It's a sad thing when when tiredness hits with a force sufficient to compel a grown man to throw himself into a canal for the approval of the very people he's supposed to be in charge of. Twice.
We hope he gets a good night's rest tonight! Shame...
Once again - Wow! What a day!
Alternating, both groups undertook the Horse Riding and the Canoeing activities today, and it's here that we really see the Magic of Pendarren at work. Both activities (particularly the horse riding) cause a good degree of anxiety in the run up and it is wonderful to see the chidren go from fear to confidence and enjoyment. It's why we are here.
We have also enjoyed a brilliant evening listening to the Master Storyteller of Pendarren, Daniel Morden. He had the children in the palm of his hands, making them gasp, laugh and jump along to a brilliant traditional Welsh Tale!
Here's hoping (and expecting) another peaceful, sleep-filled night - we're going to need it as tomorrow we walk the course of a river, from the source high up in the hills, to the labyriths of the caves down below! Bring on Day 4!!
PENDARREN 2023 - DAY 2
Sometimes a picture can paint a thousand words - who needs video! What a lovely day..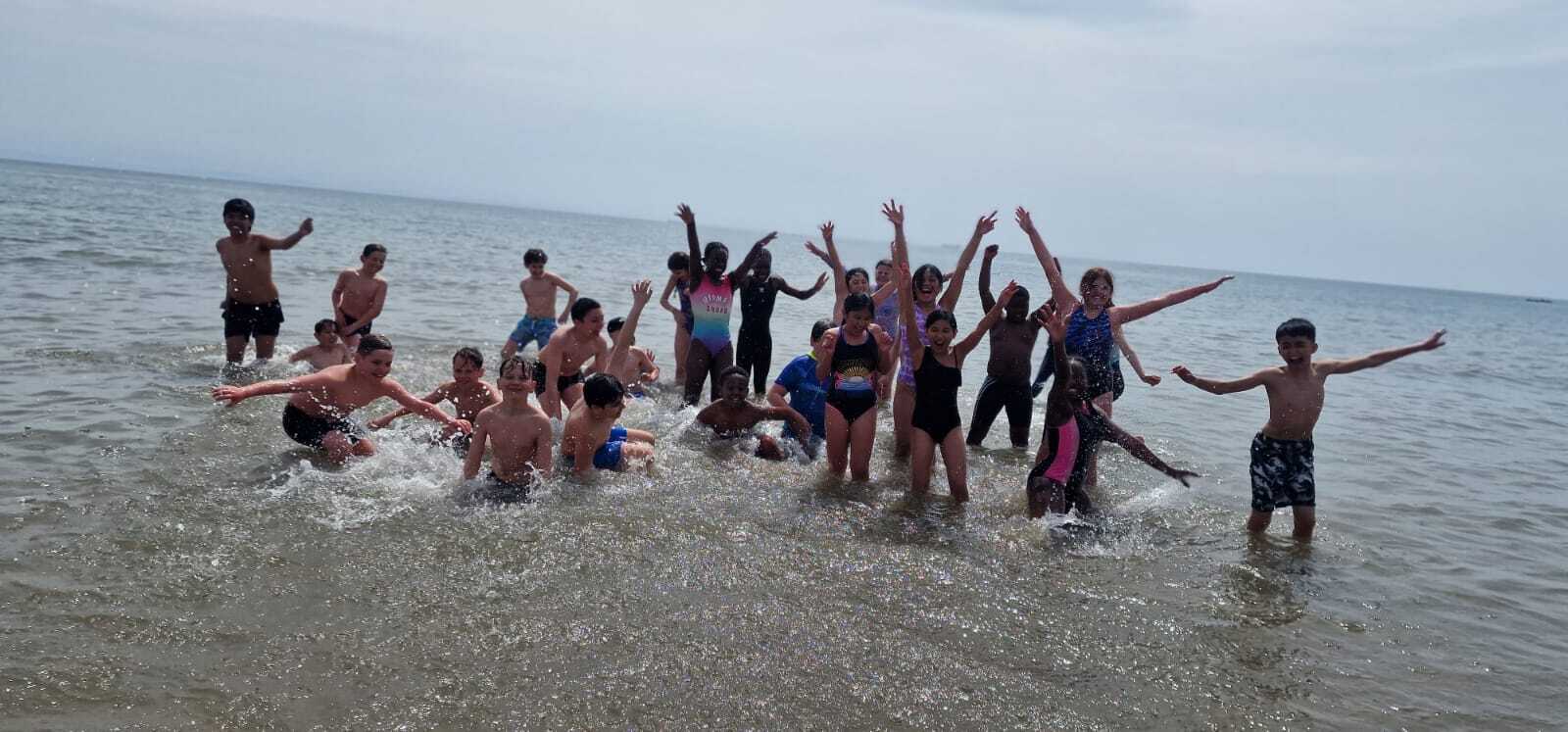 Day 2
After a miraculously calm and peaceful night (possibly the ONLY group in SJV history to have NO first night 'wobbles'), we woke to the crashing sound of the instructors' clanging bells at 7:15. There was no need for that! It underlined how needless one of the children's questions was the previous evening: "What if we don't hear the bell?" Hmmmm....
We have really enjoyed the company of this lovely bunch today - they made the absolute most of their time here on their first full day in Pendarren. We headed off on two groups to take part in a favourite of mine - the Coastal Walk!
This involves, not just a 'coastal walk', but games on the beach, a picnic lunch, rock pooling for crabs and...some time in the bracing Atlantic sea under a beautiful spring sun. A truly wonderful day.
We also headed off after dinner for a walk along the river and had the opportunity to say hello to a couple of friendly horses - more horses, of course, tomorrow as we have a twin-activity day horse riding AND canoeing!
The chidren are currently completing their diaries, reading their letters from home, chatting and getting ready for their bedtime story. I don't expect there'll be any time or energy for 'wobbles' tonight either!
Maybe they'll be too tired for 'questions', who knows? Contingency plans involve limiting them to one question each a day - use them wisely children!
Click here for more photos from Day 2!
Day 1
Well...here we all are! We arrived safely in the glorious Welsh sunshine, excited and eager to get going. And get going e did! No sooner had we dropped our bags than the centre staff whisked us off in the buses to the foot of Sugar Loaf mountain; not the one in Brazil, but it very definitely IS a mountain.
We marched our way up to the very top (no mean feat!) and ticked off the very first of the Pendarren Challenges! Here we all are at the top, overlooking the green valleys of Wales. Beautiful.
We've all had a great evening meal, a few games in the lovely Pendarren Gardens and back to our common room for diary writing.
Mr. Quin is currently reading our bedtime story to a silent and very tired room. We expect them to be out like lights in no time whatsoever.
The children have been absolutely brilliant all day - we are very proud of their conduct on the journey, at the centre and on the first activity. They are full of humour and questions (SO many questions) and are, so far, making the best of this wonderful opportunity!
Tomorrow, we head off to the Coastal Walk and a sunny afternoon on the beach (and more questions; SO many questions!)
Tonight...we sleep. Hopefully...no more questions!
We hope you all rest well tonight - they are having a great time and we are taking good care of them.
CLICK HERE to see many more photos from Day 1
Welcome to Class with with Mr. Quin, Ms. Batchelor and Mrs. Kennedy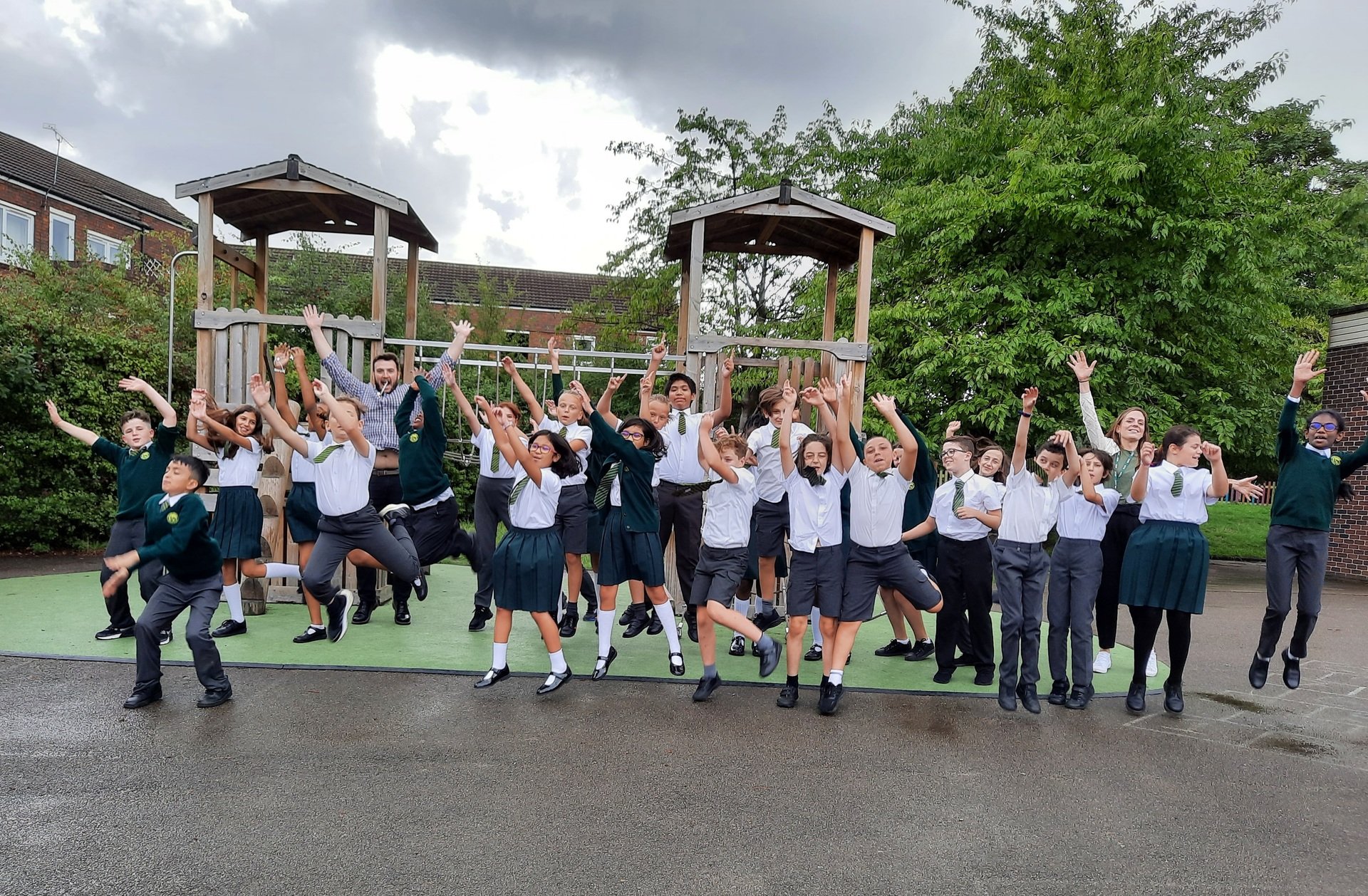 Secondary Transfer Information (September 2023)
The deadline for secondary school applications is 31st October 2022. Please ensure that you have concluded your application by then. The following documents and links are essential:
******************************************************************************************
Useful Links - How to Help your Child at Home
Reading, Writing and Maths in Year 6: https://home.oxfordowl.co.uk/at-school/year-6-at-primary-school/
Spelling: https://home.oxfordowl.co.uk/english/primary-spelling/spelling-year-6-age-10-11/
Punctuation & Grammar: https://home.oxfordowl.co.uk/english/primary-grammar/grammar-year-6-age-10-11/
Science: https://home.oxfordowl.co.uk/at-school/science-at-primary-school/
Autumn 1
RE: Kingdom of God
Reading: Storytime: Holes; Fiction: Holes; Non-Fiction: Hidden Figures; Non-Fiction: Agriculture; Poetry: The British (Black History)
Writing: Fiction: Archie Smith; the Harp; Captain Tory; Informal Letter (Persia and Greece); Poetry: The Birtish (Black History)
Maths: Number and Place Value: Numbers to 10 Million; Calculations: Four Operations
on Whole Numbers;
Relationships and Health:
PSHE (Inc. Online Safety):
Online Safety - Life Online
Citizenship, Economic & Mental Wellbeing:
British Values - Intro

Breaking Law

Pupil Mentor Role

Feeling Safe (book: The Invisible String)

Speak Out Stay Safe (NSPCC)

Local Democracy

School Council Elections
History: Persia and Greece (2022-23 only)
23-24 onwards: London & Migration Through Time (Medieval London)
Geography: Agriculture (2022-23 only)
23-24 onwards:
Compare three contrasting regions:
Wales and/or a UK city,

Mediterranean and/or Rhine,

Amazon basin and/or California.
Science: Animals Inc Humans (circulation, diet, heart)
Computing: Programming A - Variables in games
Art & Design: Kapow: Y6 Craft and Design: Photo Opportunity - Photography
Design& Tech: Art focus
French: Phonetics 3 Les Nombres + Core vocabulary (Classroom commands)
Music: Read and write land mark notes of absolute notation
PE: Games Unit 4 Invasion games Gaelic Football
Autumn 2
RE: Justice
Reading: Storytime: Holes; Fiction: Holes; Non-Fiction: Non-Fiction: Ancient Greece Poetry: For the Fallen (Remembrance); Plays: Macbeth
Writing: Fiction: Letter of Persuasion (Holes); Newspaper Report (3 Little Pigs); Non-Fiction: Vocanoes Newspaper Report; The Christmas Truce
Maths: Fractions, Decimals and Percentages: Fractions; Fractions, Decimals and
Percentages: Decimals; Measurement: Measurements
Relationships and Health:
PSHE (Inc. Online Safety):
Online Safety - Sharing Online
Citizenship, Economic & Mental Wellbeing:
National Democracy

Parliament

Anti-bullying

Working Together (book: The Juice Box Bully - Anti-Bullying)

I Belong (book: Strellaluna)
History: Ancient Greece (2022-23 only)
23-24 onwards:
London & Migration Through Time (Tudor London)
Geography: Volcanoes (2022-23 only)
23-24 onwards:
Polar Regions; Depth focus: the polar climate (and review of earlier work on climates and biomes)
Science: Electricity
Computing: Programming B - Sensing
Art & Design: D&T Focus
Design& Tech: Structures:
Frame Structures
French: En Classe
Music: Perform under studio conditions using sound equipment
PE: Games Unit 4 Invasion games *Gaelic Football*