Literacy & Foundation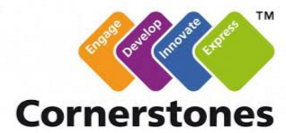 We strive to make our curriculum appealing to all of our children and pride ourselves on a broad and balanced approach to learning.
In order to maximise motivation, excitement and learning, we have adopted the Cornerstones Creative Curriculum.
Cornerstones is a holistic approach to learning. It ensures that children learn creatively and become immersed in their academic development. This thematic approach is based on the four "Cornerstones" of learning: Engage, Develop, Innovate and Express.
Engage
At the 'Engage' stage, children:

Enjoy a 'memorable experience', such as going on a visit or inviting a special visitor into school

get an exciting introduction to a topic or theme

begin researching and setting enquiry questions

get lots of opportunities to make observations

develop spoken language skills

take part in sensory activities

have lots of fun to fully 'engage' with their new topic.
Develop
At the 'Develop' stage, children:
improve their knowledge and understanding of the topic

develop and practice their new skills

compose, make, do, build, investigate, explore, write for different purposes and read across the curriculum

research their own questions and those set by others

follow new pathways of enquiry based on their interests

complete homework activities that support their learning.
Innovate
At the 'Innovate' stage, children:
apply skills, knowledge and understanding in real-life contexts

solve real or imagined problems using everything they've learnt

get inspired by imaginative and creative opportunities

revisit anything not fully grasped at the 'Develop' stage.
Express
At the 'Express' stage, children:
become the performers, experts and informers

share their achievements with parents, classmates and the community

evaluate finished products and processes

link what they have learnt to where they started

celebrate their achievements
Cornerstones is delivered through a range of inspirational yet rigorous Interactive Learning Projects (ILPs). These are based on themes and content from the National Curriculum, but bring learning together in new and exciting ways.
Each project combines different strands of learning so that children engage more holistically and start to challenge themselves through problem solving and first-hand experience.
Maths

Based on Singapore Maths principles, 'Maths No Problem' is designed and organised to ensure that children fully master key maths concepts in a visual and practical manner.
Pupils will explore concepts using concrete materials, before progressing to pictorial and, finally, abstract (the CPA approach).
Children work collaboratively, in mixed ability groups, to support each other in mastering key concepts. Higher attaining pupils can quickly move onto 'mastering', while others have the opportunity to really grasp the learning.
An extract from the Maths No Problem website summarises its principles and benefits:
* The first to introduce Singapore teaching methods to the UK
* We first introduced the UK to the concept of teaching maths mastery using methods from Singapore over 7 years ago. Since then we have trained thousands of teachers and helped hundreds of institutions, from small village schools to influential academy groups.
* Chosen by pioneering schools
* We partnered the Ark network to introduce the Singapore teaching principles which now underpin their pioneering Maths Mastery programme.
* First to publish a 2014 National Curriculum maths series
* Chosen by the NCETM and DfE for use in the maths hub programme